had blog danes praznuje tri leta od prvega ohranjenega zapisa. V tem času sem na blogu objavil 2.295 zapisov, na katere sem dobil 15.244 komentarjev. Akismet pa je uspešno zaustavil 164,876 spam komentarjev.
Vsako leto, ob obletnici, 13. julija, sem tudi objavil zapis s statističnimi podatki: 1. obletnica bloga, 2. obletnica bloga. In seveda tudi letos ne morem brez tega, pa saj to je že jasno. Statistika bloga had.si od 13.7.2007 – 13.7.2008.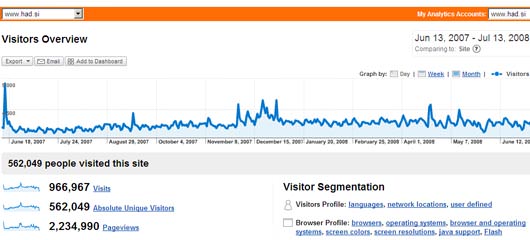 Statistika zadnjega leta je:
966,967 Visits
562,049 Absolute Unique Visitors
2,234,990 Pageviews
Oz. skupna statistika, odkar uporabljam Google Analytics, od 12. junija 2006:
1,213,079 Visits
689,034 Absolute Unique Visitors
2,739,702 Pageviews
Uporabniki uporabljajo največ:
Internet Explorer 49.81%
Firefox 46.17%
Opera 2.13%
Največ obiskovalcev pripelje:
google 45.87%
najdi 16.15%
Najbolj obiskano je:
https://www.had.si/blog// 16.03%
https://www.had.si/blog//fotografije/ 2.10%
https://www.had.si/blog//2007/06/14/pero-iz-big-brotherja-fotografije/ 2.06%
https://www.had.si/blog//2006/12/13/petra-slapar-pevka-iz-piramide/ 1.49%
https://www.had.si/blog//2007/12/09/sejem-erotike-celje-vivian-schmitt-porno-igralka/ 1.44%
Najbolj iskane besede:
had 17,108
žurnal 15,059
petra slapar 14,144
nina osenar 12,674
sanja grohar 11,579
Ker bi mogoče kakšen bralec pričakoval bolj poglobljeno razmišljanje ob tej obletnici, naj povem, da to še sledi, vendar moram najti malce več časa.
V končni fazi so vsi podatki v tem zapisu delo vas BRALCEV in za to se vam iskreno zahvaljujem!
p.s.: hvala domenci za gostovanje