Google Nexus One, nov Google telefon, je plod sodelovanja Googla in HTC-ja. Cena telefona v Google spletni trgovini je 529$ in seveda – Sorry, the Nexus One phone is not available in your country, z naročnino pri T-Mobile v Ameriki pa je njegova cena 179$.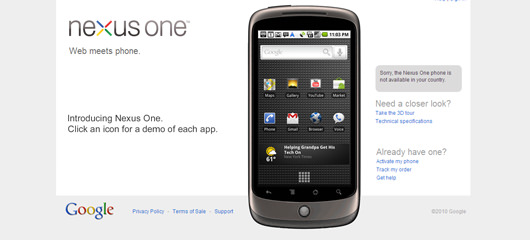 Nekaj tehničnih podatkov:
procesor: Qualcomm QSD 8250 1 GHz
zaslon: WVGA AMOLED kapacitativni zaslon, velikost 3.7 inča
fotoaparat: 5MP, 2x digitalni zoom
video: 720×480 / 20 framov
spomin: 512MB Flash, 512MB RAM, 4GB Micro SD Card
operacijski sistem: Android Mobile Technology Platform 2.1 (Eclair)
velikost: v/š/d – 119mm/59,8mm/11,5 mm,
teža: 130g
Video posnetki: YouTube Nexus One Video Channel
Nexus One: "Web meets phone"
Using your Nexus One

Nexus One – Camera and 3D Gallery

Nexus One – Contacts

Nexus One – Voice Input

Nexus One – Google Maps

Ali je Nexus One končno telefon, ki bo lahko imenovan iPhone Killer? Sam močno dvomim. Definitivno se bo veliko ljudi odločilo zanj, vendar ima Apple eno veliko prednost pred Googlom v tem primeru – zadovoljne uporabnike, ki iPhone uporabljamo že več kot leto in pol in ki smo se navadili prednosti, ki jih le ta ponuja. Poleg tega ima iPhone ogromno aplikacij in še večjo skupnost za seboj, ki ustvarja aplikacije in ki ustvarja vsebine!
Upam, da pride kmalu kakšen primerek Nexus One v Slovenijo!