Fantje iz skupine Kreshesh Nepitash imajo na svoji spletni strani zapisano:
Smo skupina Kreshesh Nepitash iz Trbovelj, mesta katero je že dolgo obdobje poznano po » konkretni« glasbi. Igramo HardCore, pesmi so podobne bolj ali manj jeznim bendom kot so Sick of it all, Agnostic Front, Minor Threat, On the Outside….
In res je, skupina ki jo sestavljajo Keller, Ici, Liho, Hribar in Pero igra zelo "jezno" glasbo, ki pa navduši občinstvo – http://www.myspace.com/kresheshnepitash
Vsak na Štour festivalu so doživeli precej bučne ovacije in tudi edini "stage diving" se je zgodil med njihovih koncertom. No, na koncu je Hribar poskušal "zažgati" prizorišče koncerta, vendar se mu namera ni povsem izšla!
Kljub jezi, ki jo prikazujejo na odru, pa so v življenju precej drugačni. Podpirajo THC (trboule hardcore) in z njim povezane aktivnosti, prav tako pa se udejstvujejo v ekstremnih športih!
Klik na fotografijo za celotno galerijo Kreshesh Nepitash – fotografije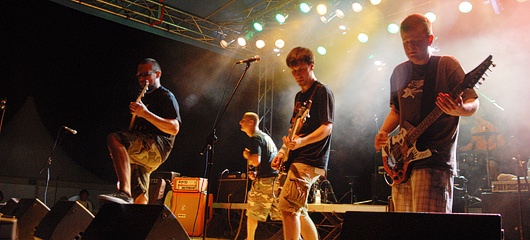 Klik na fotko za ostale fotografije Kreshesh Nepitash – Šklabfest – Trbovlje, 11.7.2009