Seth MacFarlane in Emma Stone sta včeraj v Beverly Hillsu obelodanila spisek nominirancev za filmske nagrade oskar, ki jih podeljuje Ameriška filmska akademija že od leta 1929. Letos bodo, 24. februarja, tako podeljevali to prestižno nagrado že 85..
Leta 1927 ustanovijo Akademijo filmske umetnosti in znanosti oz. Academy of Motion Picture Arts and Sciences z namenom podeljevati nagrade akademije oz. Academy Awards. Prva prireditev je bila leta 1929. Slavni kipec oskarja pa je izdelal George Stanley, prvotno iz srebra, šele kasneje so jih spremenili v zlato.
Prva dobitnica oskarja za najboljšo žensko vlogo je bila Janet Gaynor za film Seventh Heaven, za moško vlogo Emil Jannings v filmu The Last Command in za režijo Frank Borzage za dramo Seventh Heaven in Lewis Milestone za komedijo Two Arabian Knights.
Letošnji nominiranci so:
Najboljši film
Amour
Argo
Beasts of the Southern Wild
Django Unchained
Life of Pi
Lincoln
Les Misérables
Silver Linings Playbook
Zero Dark Thirty
Režija
Michael Haneke – Amour
Ang Lee – Life of Pi
David O. Russell – Silver Linings Playbook
Steven Spielberg – Lincoln
Benh Zeitlin – Beasts of the Southern Wild
Glavna moška vloga
Bradley Cooper – Silver Linings Playbook
Daniel Day-Lewis – Lincoln
Hugh Jackman – Les Misérables
Joaquin Phoenix – The Master
Denzel Washington – Flight
Glavna ženska vloga
Jessica Chastain – Zero Dark Thirty
Jennifer Lawrence – Silver Linings Playbook
Emmanuelle Riva – Amour
Quvenzhané Wallis – Beasts of the Southern Wild
Naomi Watts – The Impossible
Stranska moška vloga
Alan Arkin – Argo
Robert De Niro – Silver Linings Playbook
Philip Seymour Hoffman – The Master
Tommy Lee Jones – Lincoln
Christoph Waltz – Django Unchained
Stranska ženska vloga
Amy Adams – The Master
Sally Field – Lincoln
Anne Hathaway – Les Misérables
Helen Hunt – The Sessions
Jacki Weaver – Silver Linings Playbook
Animirani film
Brave – Mark Andrews and Brenda Chapman
Frankenweenie – Tim Burton
ParaNorman – Sam Fell and Chris Butler
The Pirates! Band of Misfits – Peter Lord
Wreck-It Ralph – Rich Moore
Tuji film
Amour (Austria)
Kon-Tiki (Norway)
No (Chile)
A Royal Affair (Denmark)
War Witch (Canada)
Najboljša pesem
"Before My Time" from Chasing Ice – J. Ralph
"Everybody Needs a Best Friend" from Ted – Walter Murphy and Seth MacFarlane
"Pi's Lullaby" from Life of Pi – Mychael Danna and Bombay Jayashri
"Skyfall" from Skyfall – Adele Adkins and Paul Epworth
"Suddenly" from Les Misérables – Claude-Michel Schönberg, Herbert Kretzmer and Alain Boublil
Najboljši izvirni scenarij
Amour – Michael Haneke
Django Unchained – Quentin Tarantino
Flight – John Gatins
Moonrise Kingdom – Wes Anderson and Roman Coppola
Zero Dark Thirty – Mark Boal
Ostali nominiranci – http://www.oscars.org/
Klik na fotografijo za celotno galerijo Hollywood Walk of Fame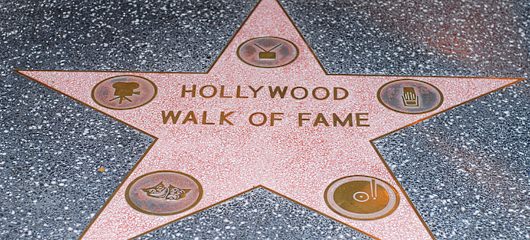 Klik na fotografijo za ostale fotke Universal Studios Hollywood