Včerajšnji dan se je začel precej "katastrofalno" s tem mailom:
"Ekipa Cvetličarne sporoča, da bo Cvetličarna obratovala le še v septembru. V petek, 25.09.2009 na zadnjem FFN se z legendarnim Joe Montana poslavljamo in odhajamo v anale glasbene zgodovine. Napovedani koncerti Limited Edition serije so odpovedani."
Woot!? Pa ravno danes sem si srčno želel spet videti Hladno Pivo na odru Cvetličarne, s katerim bi vstopili v novo sezono koncertov.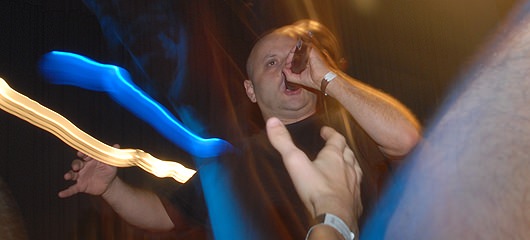 Madonna, Lenny Kravitz in Lady GaGa, to so bili odpovedani koncerti, pri Cvetličarni pa ne samo da so odpovedali koncerte, temveč bodo tudi povsem zaprli vrata.
Kaj je razlog sploh ni pomembno. S tem Ljubljana izgublja enega najboljših zaprtih/klubskih prostorov, ki je imel urejeno parkirišče in v katerem sem se sam precej dobro počutil. Škoda in rispekt lastnikom, ki so se odločili za to precej nenavadno in precej nepredvidljivo potezo. Še en prostor, ki zapisan v anale glasbene zgodovine!
Za ljubitelje Hladnoga piva pa moje prejšnje objave podkrepljene s fotografijami:
Koncert Hladno Pivo – Trbovlje, 14.11.2008
Hladno Pivo – 20-letnica – Križanke
Video dneva – Hladno pivo – Roštilj
Hladno pivo