Soblogerka Mačka je pred časom pisala o Wellnessu Orhidelia. Ker poznam njen okus in če ona nekaj pohvali, je le to vredno obiska!
Po obisku Hundertwasser Therm – Rogner Bad Blumau, so se moja pričakovanja povečala. In močno sem dvomil, da me lahko karkoli pozitivno preseneti pri nas. Pa vendar sem se motil. V Podčetrtku so naredili odličen Wellness, vendar še vseeno ni primerljiv s Hundertwasserjevimi termami! Že zunanja podoba je fascinantna (ravno nasprotna Hundertwasserjevim okroglinam), notranjost pa prav tako preseneča.
Cena dnevne vstopnice med vikendom je 33€ (med tednom 26€), odprto od 9. do 24. ure.
Klik na fotografijo za ostale fotografije Terme Olimia – Wellness Orhidelia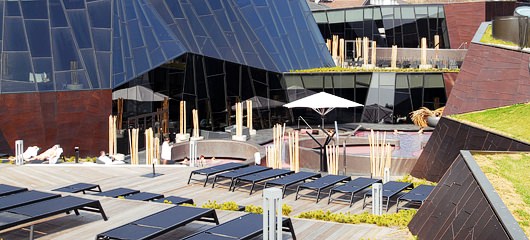 Prvih par minut v Orhideliji sem bil zmeden. Namreč različni nivoji, različni prostori, zunanji bazeni, vendar v končni fazi je vse skupaj zelo preprosto in intuitivno.
Savne so čiste in pozna se, da je vse skupaj še precej novo in ohranjeno. Glede na to, da je vse skupaj ogromno (za naše razmere), tudi ni bilo nobene gužve. Zunanju bazeni bi lahko imeli malce toplejšo vodo, vendar je to stvar okusa. Prav tako notranji. Namreč po segrevanju v savnah (turška je zakon!) je vse skupaj bilo premrzlo.
Tudi hrana v samem Wellnessu je zelo dobra in po "napornem dnevu", ko ti "švic teče od riti" v savni prav paše. Cene so dokaj normalne – solate 9€, pijače 2,5€. Potem pa ven na sonček in cigaro. Priceless!
Wellness Orhidelia definitivno priporočam!