Odgovor na vprašanje, ki ga zastavlja "pevka in plesalka" Tjasha Zhidan je preprost – moški so, vendar se bojim, da bi jih večina pobegnila, ko bi zagledali žensko ki jo je kozmična sila vrgla iz nekih davnih časov. Njen učitelj petja je Nace Junkar!
In namesto da bi poslušal njen glas in užival v njem (hmm, ali se to sploh da?), sem rajši opazoval njena oblačila. Ker je Tjasha, kot je sama zapisala, velika ljubiteljica živali, je tudi vse krzno v videospotu umetno?! Vsekakor pa upam, da jo čim prej vidimo tudi brez odvečnega krzna, kajne? (ali pa tudi ne!)
Dobra načela ima punca, nekako pašejo k njenim oblačilom!
I don't give a fuck what you think of me
I don't give a fuck what you say about me
I don't give a fuck what you do to me
If you don't like my attitude – then just fuck off!
Klik za ogled videospota – Tjasha Zhidan – Is there a man?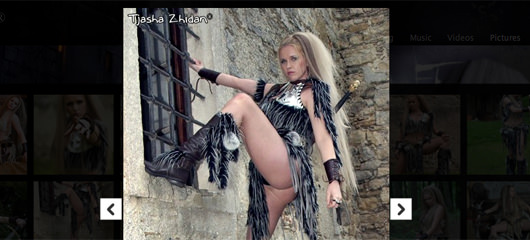 Fotografija je print screen iz njene uradne spletne strani (vir)
Dodal še en videospot – I wont lose my mind! – očitno novejši, ki pa je še precej bolj "čuden" in kjer pokaže nadarjena pevka Tjaša še več svojega mesa (dobesedno!).